Instructors
Are you a professional instructor (BPJEPS level or equivalent) and would you like to pass on your knowledge and expertise of driving on race tracks (for salary) to GT gentleman drivers ? Are you an organiser of driving courses or trackdays also providing instructors ? Then this chapter is made for you.
Whether you are an experienced GT sports driver or a beginner, it is not really important. Here you will find valuable addresses of instructors (often professional drivers who are still active or have retired from active racing) who really know what they are talking about. Believe us: these "guys" will help you to progress much faster than if you try to improve on your own. You will be surprised how some drivers 'go about it'. As soon as you implement what you have seen and learned, you will quickly gain in efficiency, safety and driving pleasure. Guaranteed !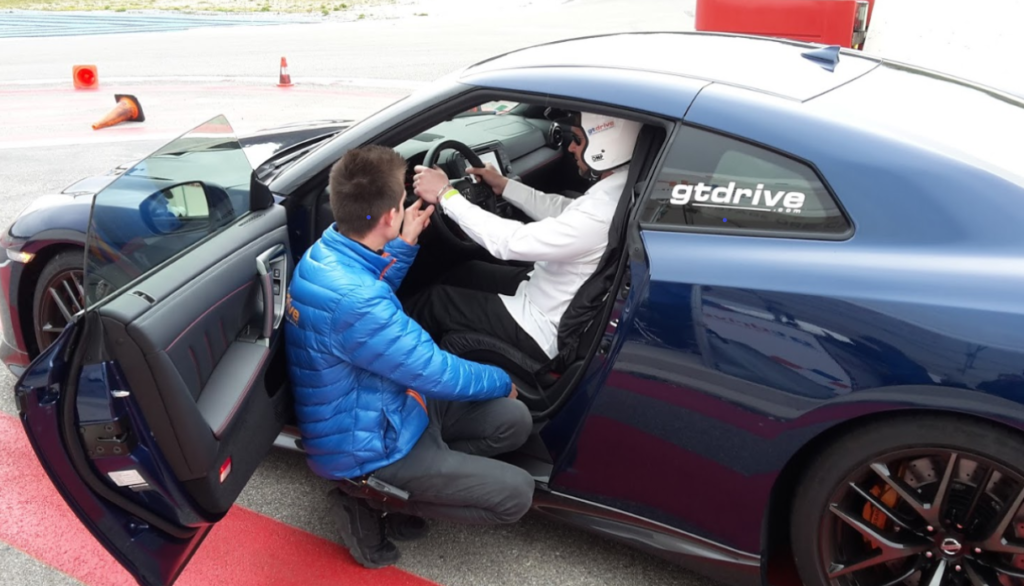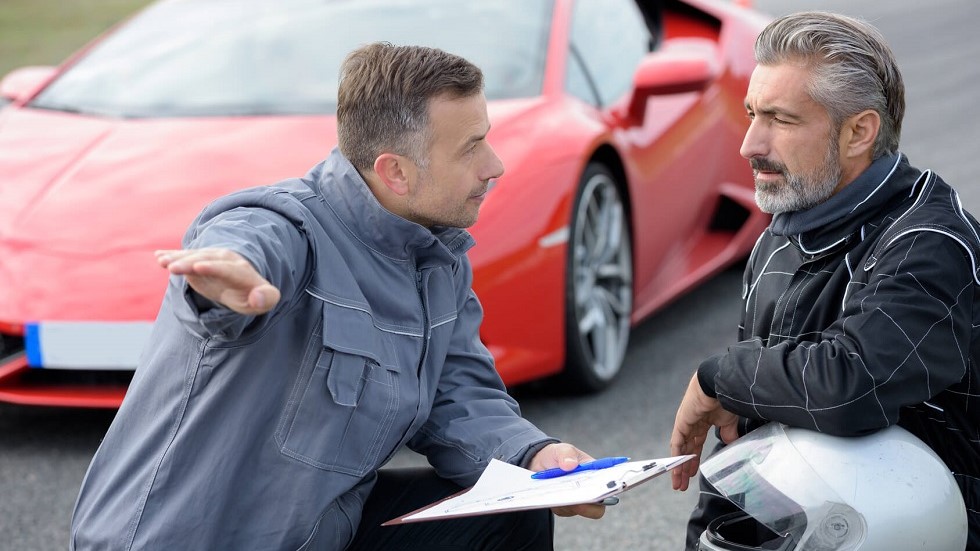 In brief, a professional instructor :
– explains the behaviour of your car on a race track. Gives you all the necessary theoretical information about the track, shows you how to drive the ideal line, where the braking zones, turn-in points, apex's and exit points are, in which gear a bend/corner/hair pin should be driven optimally and all the "traps" to avoid to stay safely on the track.
– if necessary, shows you how to sit correctly at the steering wheel to feel comfortable on the track at all times.
– while observing you, will correct immediately any mistakes and help you to find and/or perfect the line "live", helps you to optimize degressive braking, tells you exactly when, where and how much you have to accelerate out of the curve, corrects the position of your hands on the steering wheel, helps you to anticipate and optimize your eye-tracking.
– adapts to your level, your knowledge and your ability and helps you to improve efficiently and goal-oriented. Safely and relaxed, on dry or wet conditions.
In résumé, for a relatively small investment (sometimes the instructors are even provided free of charge by the trackday organizer) you will be able to make a huge progress !
---
LISTING OF INSTRUCTORS…
---
· ALMACAR Driving School (F)
Founded in 2009 by the driver Alban Varutti, ALMACAR is based in Treillières, in the outskirts of Nantes. It is composed of a dynamic and passionate team (BPJEPS qualified instructors and professional and confirmed drivers) anxious to accompany and advise the trainee drivers at the wheel of their own cars or rented cars. Note that Almacar also organizes trackdays where you can come and drive your own car.
→ https://www.almacar-pilotage.fr
---
· BARTH Fredy (CH), Active racing driver and professional instructor
As an organizer of his own trackdays he also works as an instructor at other events. He offers his profound knowledge of most European race tracks in German, English and French.
→ http://www.fredybarth.ch
---
· BEULEN Bruno (B), active racing driver and professional instructor and coach.
As a factory driver and experienced racing driver as well as an instructor, he works with several high-end trackday organizers such as Scuderia S7 and TC LTD. You can hire him as a private coach under WAYPOINT for the trackdays of your choice.
→ beulen.bruno@gmail.com
---
· BRETIN Didier (F), professional car sport trainer (BPJEPS diploma) with specialisation in racetrack teaching.
As a very experienced driver and instructor, he trains sports drivers both through his sports driving school "startanddrive" (with car renting) and for various organizers / clubs on notable race tracks in France and Europe.
→ http://www.startanddrive.com
---
· BRETON Benjamin (F), French racing driver and instructor, BPJEPS graduate
Former Formula Renault, Fun Cup, Peugeot and Clio Cup driver, he now transmits his passion for driving from the beginner driver who is taking part in his first trackday to the professional driver who wishes to hire the services of a coach. Bilingual FR/EN.
→ http://www.benjaminbreton.com
---
· DAVID William (Will) (F), racing driver and qualified instructor.
Former Peugeot factory driver, multiple French champion in various categories, he has his own professional school (with his own cars like Clio RS, EVO 6, Formula Renault…) and offers individual coaching tailor-made. He rents race tracks on his own or works for professional trackday organizers.
→ http://www.drivingyoursuccess.net + contact@drivingyoursuccess.net
---
· DRIVE ACADEMIE (F)
→ https://www.driveacademie.com/
Whether it's a training course, driving lessons or trackdays, Drive Académie offers you to drive exceptional vehicles on circuits selected by enthusiasts.
---
· DRIVING KONCEPT (F)
"Experienced professional driver and state-certified DEJEPS trainer (kart and car), my team and I put all our experience at your disposal to optimize the following points, among others : braking, load transfer, heel to heel, trajectories, eye projection. We are there for everyone, from beginners to experienced drivers" – David Zollinger. On the homepage of Driving Koncept almost everything is said. The school has its own vehicles (formulas, racing and GT cars), but you can also take lessons with your own car. Driving Koncept is based in Le Lédenon, but they also go to other racetracks.
→ https://www.driving-koncept.com
---
· DU CASTEL Xavier (F), Professional car sport trainer with BPJEPS diploma
He is Rally and racetrack driver and an extremely experienced instructor. You may meet him often on several racetracks in France which he knows very well. Either as a private trainer or as an instructor hired by trackday organizers.
→ ringspeed@ringspeed.com
---
· EXTREME CARS EVENTS (F)
"It's time to live your dreams." Extreme Cars
Extrem Cars events is a sports and racing driving school founded by Cyrille Kerdraon, an experienced Rally driver and instructor. The school provides its own instructors and cars for trackdays on major racetracks in France. The package : individual and personalized coaching in rented cars or in your own car. Training takes place on own organised trackdays or together with other organisations. You will find the dates 2020 on our homepage or under.
→ https://www.extremcarsevents.com + http://www.extremcars.fr + contact@extremcars.fr
---
· EXTREME LIMITE (F)
Driving school based at the circuit of Fay de Bretagne (25 min. from Nantes) founded by Patrick Roussel, winner of the 24H of Le Mans. The school also organizes trackdays to be found in our calendar.
→ https://www.extreme-limite.com
---
· GT DRIVE – Driving Experience (F)
GT DRIVE offers driving courses at the wheel of the most beautiful GT cars (the choice of cars is impressive : Ferrari, Lamborghini, Porsche, Audi R8, Nissan GTR,…). All instructors are BPJEPS certified. You can also take an instructor in your own car. GT DRIVE also organises baptisms for passengers (number of laps of your choice). Visit their website, especially the FAQ section, which provides a lot of useful information. Note that the godfather of GT DRIVE is none other than a certain Jean Alesi.
→ https://www.gtdrive.com
---
· Julien Gedet (F)
→ https://www.juliengedet.com/
The coaching takes place alone with Julien Gedet on the circuit Pau Arnos or Saintonge. It is a personalized offer which is made on estimate according to your objective and the racing or sports car which you have. The choice of another circuit is possible according to availability.
---
· MATHIOT Guillaume (F)
BPJEPS certified instructor, certified Lotus Cars. Professional instructor with 15 years of experience as a driver on asphalt and dirt tracks. Trials and tests of competition vehicles. Guillaume shares his experience and knowledge of driving in trackdays organized by various recognized organizers.
→ mailto:guillaumemathiot@hotmail.fr , Tel : 0033-6-67-32-38-57
---
· MOTORSPORT ACADEMY (F)
Based in Nantes, Motorsport Academy is an organizer of driving courses and baptisms for passengers active in the north west of France, especially on the circuits of Lohéac, Fontenay le Comte, Bugatti/Le Mans and Fay de Bretagne. They also organize trackdays on the circuit of Fay de Bretagne.
→ https://www.motorsport-academy.fr/
---
· NOMAD DRIVING EVENT (F)
"The Nomad Driving Event driving school has a team of experienced BPJEPS qualified instructors available on all our trackdays for personalized coaching sessions (from 30 min to a full day – see prices at the driving school)".
→ https://www.nomad-pilotage.com/trackdays/
---
· PEGASE Stages de pilotage (F)
"This drift training is designed to enable you to develop to the point the "sliding" in complete safety on our racetracks".
Pegase is a sports driving school totally dedicated to the art of drifting. Goal : to learn and master drifting on asphalt, ice and snow. There is nothing better than to "feel" the car and to acquire the right reflexes, both on road and track.
→ https://stage-pilotage.com/ + contact@stage-pilotage.com
---
· RC-Events (F)
→ https://www.rc-events.fr
Amateur or experienced driver, improve your skills at the wheel of our vehicles or your own sports car. Discover various circuits in France or Europe. This formula allows you to drive a large number of laps while benefiting from individual coaching between each session.
---
· RTS PRO (F)
Novice or motivated to better control your car, RTS PRO invites you to coaching sessions during the open days. Our instructor Sandy is a BPJEPS graduate, Moto cross pilot and has regularly held the position of track manager at the Haute Saintonge circuit. Moreover, he has organized several open auto oriented "Young aimer and Old aimer" days on this same circuit. From May 2021, RTS PRO will offer propulsion vehicles prepared by DELAGE Sport. These vehicles will be for rental with instructor and/or reserved for drivers who have already participated in driving sessions on the Circuit de Haute Saintonge.
→ https://www.rtspro.fr
---
· STUCKY Martin (CH), professional car sport trainer (BPJEPS diploma) with specialisation in racetrack teaching.
Extremely experienced coach/instructor and hobby racer. Since 1991 he works for high-end organisations such as Scuderia S7 and NJ Sportfahrerschule. He is an excellent communicator, speaks several languages fluently and knows most European race tracks like the back of his hand. He often shares his passion with top drivers such as Frank Stippler, Marcel Fässler, Christian Menzel, Jens Richter, Fredy Barth and others.
→ martin.stucky@ocbox.ch
TIP : Martin Stucky is the author of the Idealline-Conzept© shown on the example of the Nürburgring-Nordschleife (in 2 languages) and SPA-Francorchamps (in 3 languages). In it he describes in detail the 'classic' line, with circuit diagrams, pictures and a film with a driven lap of 60 km/h. www.ideallinie-konzept.de In the first part he explains all theoretical and driving dynamic important topics in cooperation with Prof. Dr. Bernt Spiegel and describes in a clear and detailed way the complete vocabulary of motorsports. A "must" for every beginner and/or experienced driver !
→ http://www.ideallinie-konzept.de
---
· XP DEVELOPPEMENT (XAVIER POMPIDOU) (F)
Xavier Pompidou is an experienced instructor and professional driver with a great track record in karting and racing cars (notably in the Le Mans Series driving Porsche RSR and Lola-Judd). He offers personalized coaching for gentleman drivers (during trackdays) as well as for professional drivers.
→ http://www.xpdeveloppement.com/
---
… AND MORE
---
Also worthy of special mention is the great professionalism of many trackday organisers, such as Racetrackdays, Pistenclub, Scuderia Hanseat, Scuderia S7, Tinseau Test Days, TC LTD, Dijon Auto Racing and many more, who offer top-class instructors (some of whom we have already mentioned above), some of whom are even free.
Benefit from their experience without limit, because these coaches/instructors and drivers are professionals who know exactly how to make you feel comfortable on the track and thanks to which you can make great progress, regardless of your driving level !