Streetlegal car brands and models fitting for trackdays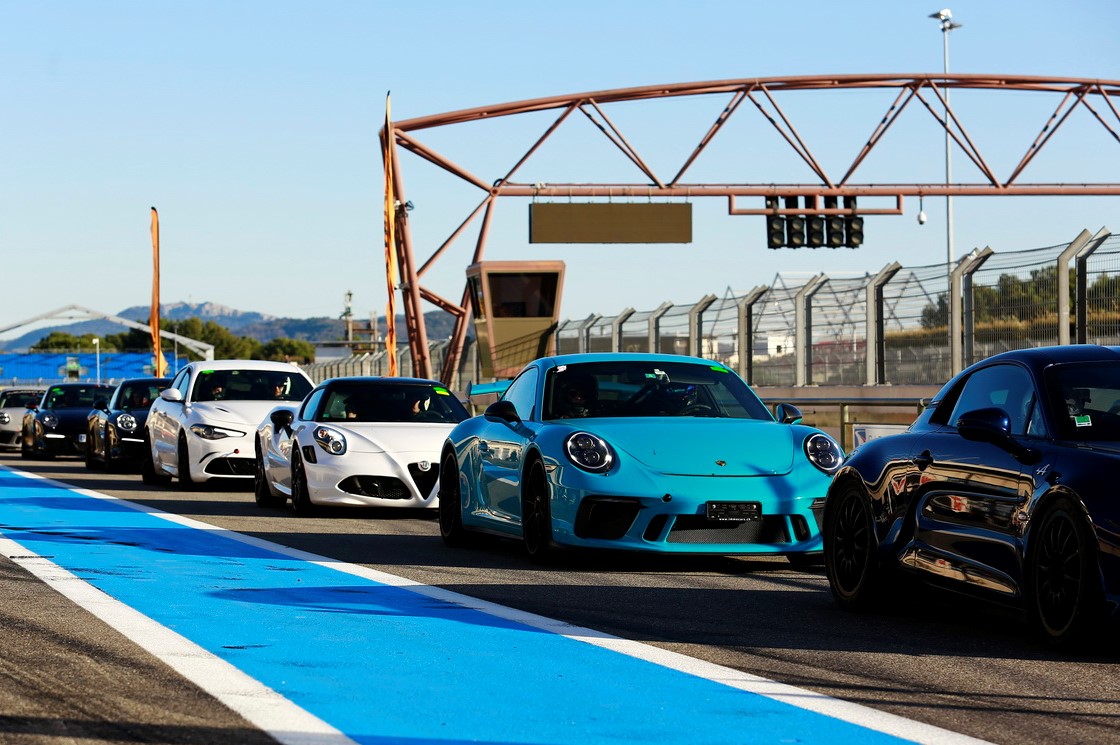 Are you looking for the perfect GT car for a trip to the Alps, to the countryside and especially on a racetrack?
You will find a list of car brands and models which are best suited to your needs, each with a brief commentary. Given the wide choice of some brands (engines, versions,…) it is not possible to quote them all. We are focused on modern GT models (*), and especially large GTs that we see most often on racetracks. Do not blame us if we have forgotten a car brand or a model being close to your heart !
(*) In order to speak the same language, here is what we mean by "large" GT made for a track use :
– street legal production car
– power between 400 and 800+ bhp
– rather a rear-wheel drive system (we include 4×4 cars such as Audi R8, Nissan GTR,…)
– rather a coupé (or a similar model in cabrio as Ferrari 458, 488, Lambo Huracan,…) and in principle no sedans (excepted cars such as the Alfa Giulia GTA/m or the Jaguar Project 8). Sublime cars like BMW M5, Audi RS4 and RS6, Mercedes C/E/CL/SL AMG and other similar sedans (e.g. Bentley, Jaguar, Lexus, Maserati, Tesla,…) as well as hyper sport SUVs are not made for a track use because of their weight and not adapted brakes !
– weight : between 1000 and 1800 kg; on a racetrack, the weight is the worst enemy : better a less powerful and lighter car than a hyper powerful but heavy one (we voluntarily include in our list the Radical, KTM X-BOW and other cars under one ton because they are regularly present on tracks)
– adapted brakes (discs and pads)
– adapted brake fluid (a "competition" brake fluid resistant to high temperatures is mandatory, otherwise danger of terrible accident)
– original tyres or, better, road legal semi-slicks
– manual or automatic gearbox (PDK,…)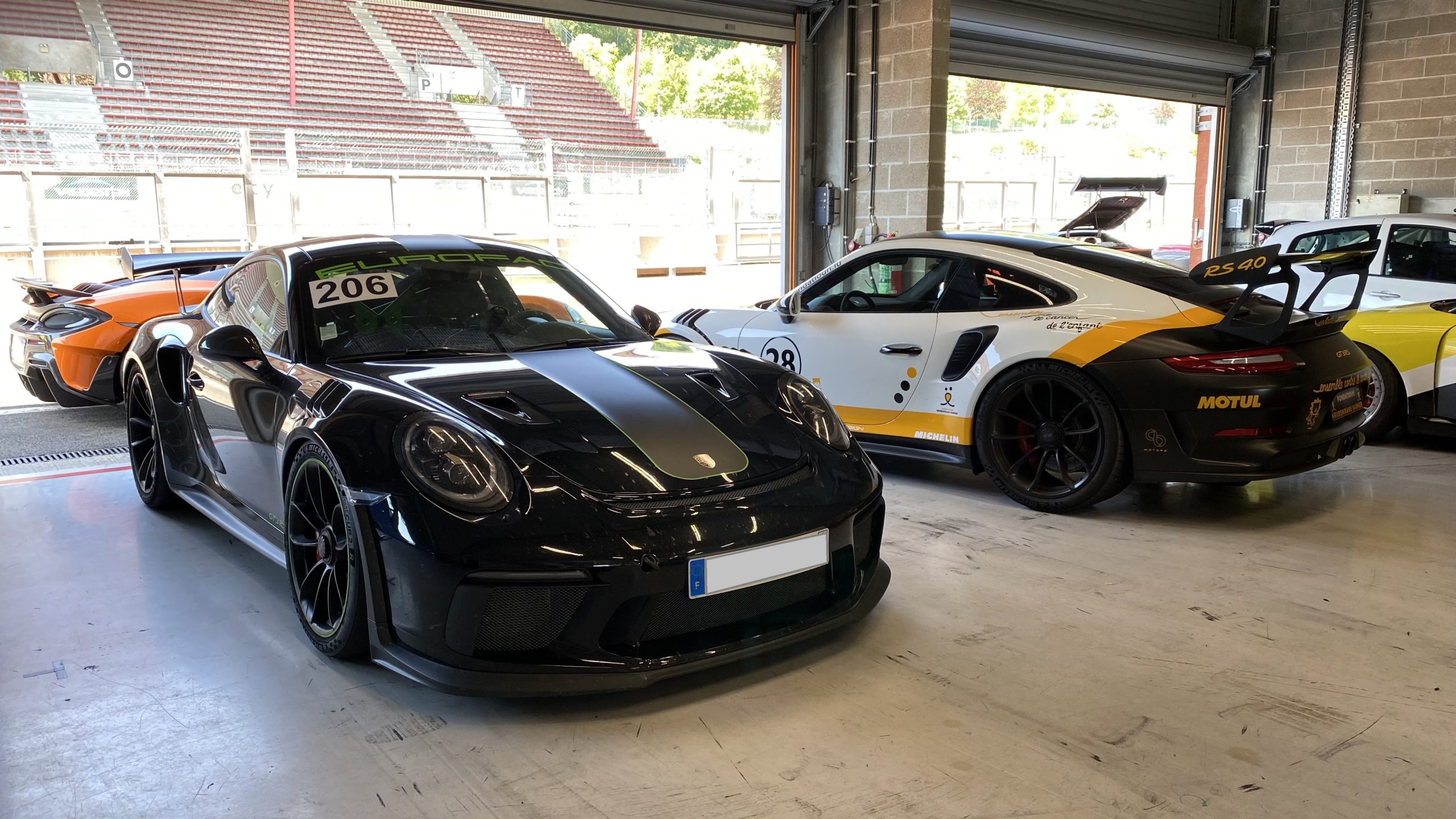 (*) And, by complement, here is what we mean by "small" GT made for a track use :
– street legal production car
– power between 200-400+ bhp
– FWD, 4×4 or RWD, a coupe/cabrio or a sedan: a few examples : Alfa 4C, Alpine, Audi S1/S3/TT, BMW S1/S3, BMW Serie 1, Fiat 500 Abarth, Ford Fiesta/Focus S/R/RS, Honda Civic Type R, Lotus Elise or Exige, Mercedes A Class AMG, Nissan 350/370 Z, Peugeot 106, 206, 208 or 308 GTI, Renault Clio or Mégane RS or Trophy, Mitsubishi EVO, Seat Cupra, Subaru Impreza, Toyota GT86, VW Golf GTI or R,…
– weight : between 800 and 1600 kg
– the last 4 points of § large GT are identical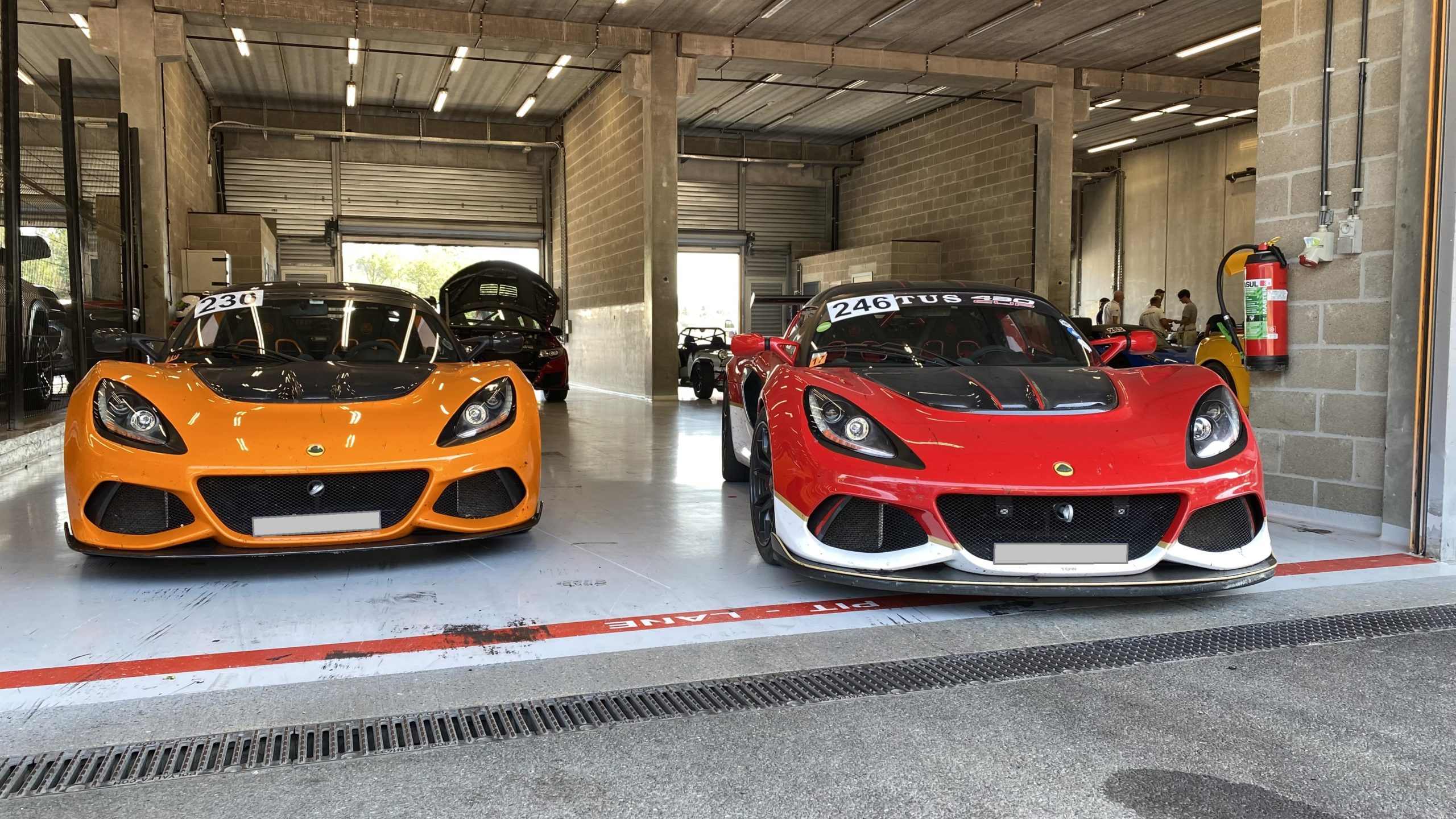 ---
ALFA-ROMEO
· 4C : excellent "small" GT with a top carbon chassis, original and aggressive design, slightly underpowered onto long straights. Bucket seats not top, good value for money.
· 8C : beautiful design with harmonious contours, excellent Ferrari engine; high sales value, therefore rarely seen on racetracks.
→ https://www.alfaromeo.com
---
ALPINE
· A110/GT/S/R : The french legend is back ! Nice little GT, polyvalent, with a little weak of performance on racetracks. European championship existing (cf "corner competition for gentleman drivers").
→ https://www.alpinecars.com
---
ARIEL
· Atom : 530 to 650 kg for 250 to 500 hp depending on the version ! A machine stripped of all superfluous, out of category.
→ https://www.arielmotor.co.uk/atom
---
ASTON MARTIN
· VANTAGE V8, V12 : available in several versions, the basic version is slightly underpowered. The latest models are more efficient and the exclusive ones are simply too expensive to be driven on a racetrack. Slow shifting times. Species rara on racetracks.
· DB11, DBS AMR & Superleggera : beautiful GT car, powerful, sporty, luxurious but a bit too heavy. Despite AMG motorisation more suitable for strolls along the Riviera than for racetracks.
→ https://www.astonmartin.com/en/welcome
---
AUDI
· R8 V8 : beautiful creation from Audi. The V8 is a bit outdated in terms of engine power. It is and remains a beautiful, multi-use and sporty car with a 4×4 which can be "reassuring" depending on the situation.
· R8 V10 : the latest versions are even more powerful than the original V10. Great performance, a bit too heavy and also with 4×4.
· TT : why not ? An S or RS a little prepared for the track (brakes, tires,…) will give a lot of pleasure to its driver.
→ https://www.audi.com/de.html
---
BMW
· Series 2/M2 & Co : great range of performance for this athletic light-footer (compared to its big sisters). Several engine types available. Not to be underestimated on racetracks.
· Series 3/M3/M4 & Co : the newest are the most powerful, but not the most efficient due to their overweight. Sporty, fast and really polyvalent. Heavily modified models can become real challengers. Well prepared, they are to be taken as serious "sparring partners" on trackdays.
· Insider tip : Don't forget the Z family, especially the Z3. Well tuned and equipped with 'thick' brakes it is a real "drift toy". In our opinion, like the Z8, M6 and M8 are less adapted for track use (weight).
→ https://www.bmw.com/en/index.html
---
BUGATTI
· Veyron, Chiron, Chiron Pur Sport, Divo, One Off, Mistral, Bolide : so expensive that you rarely see them on trackdays. What is it ? A luxury car or a hyper sports car ? Both are true…
→ https://www.bugatti.com
---
CATERHAM
· Eccentric machine, fun and very light. Numerous series/versions offering today about 210 to 310 hp for approx. 600 kg. The most powerful (R400-500-600, 620R and 485R) are racetrack beasts. Not really a GT, but regularly seen on track. To be put in the category of Ariel, Donkervoort and KTM. There are various championships.
→ https://www.caterhamcars.com

---
CORVETTE
· C6 Z06/ZR1 : thanks to its chassis, this is the first Corvette that can really be used on racetracks. Powerful and captivating engines, nice interior, really interesting price/performance ratio, especially valid for the Z06 with 500 bhp. Essential : Recaro bucket seats and 6-point seat belts are highly recommanded.
· C7 Z06/ZR1 : an even more precise chassis, incredible power (660 and 760 bhp), a fantastic sound and a "cool" look, well finished interior. Seats are insufficient.
· C8 Stingray and Z06 : V8 car with mid-engine placed behind the driver. Z06 promised with 670 HP. Real handling and performance ? Z06 price in Europe ? All this remains to be tested on a track because, for the moment, we see very little of it on a track in Europe.
→ https://www.chevrolet.com/performance/corvette
---
DALLARA
· STRADALE : 400 bhp for 855 kg. A little beast. Chassis and aero are absolutely fantastic.
→ https://www.dallara.it
---
DODGE
· VIPER : first series is not strong enough despite the V10. The chassis is not that adapted for the racetrack.
· VIPER SRT GTS & ACR : the latest versions are extremely powerful and aggressive. Warning : tendency to overweight in the front because of the V10 (understeering).
→ https://www.dodge.com

---
DONKERVOORT
· D8 GTO-40 : an ultra-light and high-performance go-kart that makes it almost unbeatable on the track.
→ https://www.donkervoort.com
---
FERRARI
· F355 : For today's requirements the engine is too weak. Has a high-quality and stable chassis. For enthusiasts one of the most beautiful Berlinette of the brand.
· F360 : Like the F355 a little bit of PS-weak. Under full load the Challenge Stradale develops one of the most beautiful and intense sounds of any car ever built in the world.
· F430 : More powerful than its two predecessors. Develops a performance that is enough to keep up with Porsche and other sports cars in the field. The 430 Scuderia is unique and remains a great driving and fun machine. The exaust-music this engine develops is more beautiful than Vivaldi and Beethoven together.
· F40/F50 : two absolute myths, but is it still reasonable to drive them on the track ? One or another F40 appears sometimes on track.
· 458 : Power, modernity, reliability, performance, everything is there ! The 458 Speciale is an absolute benchmark in terms of perfection and sound … and already has collector's value.
· 488 : Ferrari returns to turbo (after the mythical F40). Further impressive performance enhancement with an equally incredible soundtrack. The Pista is simply the top of the top.
· 812 SUPERFAST : the 800 bhp limit has been exceeded (less than 10 years ago still unthinkable for a production car) ! With its front engine, it is a bit heavy in the corners, just like its predecessors, the 550 and 575. On straight lines, you need a GT2RS or a McLaren to follow this "bullet".
· LaFerrari : like the P1 and the 918, this super sports car is rarely seen on race tracks.
· Portofino, Roma, F8 Tributo, SF90 Stradale, 296 GTB,… : the legend continues…
→ https://www.ferrari.com
---
FORD
· MUSTANG : The Shelby is our favorite because it is the strongest one. Chassis and brakes can be overstrained on racetracks. Difficult to handle, this car is to have on a bargain price.
· GT : descended from the GT40, this car is too expensive to be driven on rac tracks. Its predecessor is beautiful but not easy to handle.
→ https://www.ford.com

---
GUMPERT
· APOLLO : this thoroughbred sports car equipped with an extremely powerful Audi biturbo engine demands very fine handling. Unfortunately more often found in the garages of collectors than on a racetrack.
→ pas de site web

---
HONDA
· Accord Type R : small GT with an aggressive and sporty design, already a very good basis for having fun on the track.
· NSX : great car, sporty, powerful, equipped with extremely high technology and well made. A bit heavy to drive many laps in a row.
→ https://global.honda
---
JAGUAR
· F-TYPE P450 & SVR : Jaguar is back with a beautiful, powerful and roaring GT, which is relatively little present on trackdays despite massive marketing efforts by the brand. Why ? That is the question.
→ https://www.jaguarlandrover.com
---
KOENIGSEGG
· CC, CCR, CCX, One:1, Agera, Jesko, Gemera,… : so expensive that you rarely see them on trackdays. What is it ? A luxury car or a hyper sports car ? Both are true…
→ https://www.koenigsegg.com
---
KTM
· X-BOW R, RR, GT, GT4, GTX : OK, we are almost out of the GT's world in terms of weight and appearance, but what performance and what charisma !
→ https://www.ktm.com

---
LAMBORGHINI
· GALLARDO : Despite the power of the younger generations, the Gallardo is a bit outdated and has never been a real track machine.
· HURACAN : Lamborghini has clearly proven with the Performante, the EVO, the STO and the Tecnica that they can build absolutely trackday adequate sports cars. Real missiles and therefore an interesting alternative for lovers of this Italian brand built in Sant'Agata. The basic Huracan is already completely sufficient for lots of fun.
· AVENTADOR : this is a beautiful extremely powerful car. A bit too heavy and bulky for regular use on racetracks. Rustic gearbox. What a look and what a sound ! Addiction potential !
– REVUELTO : V12 + 3 electric motors, it must be something interesting on open roads. On the track ? Weight + purchase price = a certain dissuasion, no doubt.
→ https://www.lamborghini.com
---
LOTUS
· ELISE : "Light is right", limited in power and space on board; it is a beautiful toy, especially in curves and on small racetracks.
· EXIGE : The performance has increased steadily in recent years. Lotus is getting closer to Porsche, the compressor models are very efficient.
· EVORA : finally some more space on board; the first models were underpowered. The latest Evora with compressor is a great car for trackdays.
· EMIRA : the last Lotus with a non-electric engine ? For now, let's enjoy the Toyota 3.5-liter V6 supercharger engine or the AMG 2.0 liter 4 cylinder turbo !
→ https://www.lotuscars.com
---
MASERATI
· GRANTURISMO : a real road GT, expressive engine, beautiful curves and chic interior. Not adapted for racetracks (weight, brakes, …) if not tuned.
· MC20 : a star is born ? Let's wait and see.
→ https://www.maserati.com
---
McLAREN
· MP4/12C, 540, 570, 600, 650, 675, 720, 750, 765, GT, Artura, P1, SENNA : in one word : ALL models are clearly built for racetracks ! Performance, weight, chassis, engine, brakes, the best of the best. Unfortunately, the two last mentioned models are too rarely present on GT trackdays.
→ https://www.mclaren.com

---
MERCEDES-BENZ
· A45S AMG: 420 hp for 2.0 litres turbo ! A "little" bomb created by the wizards of Affalterbach.
· AMG GT/GTS/GTR(S) : Design, engine, chassis, performance, brakes, everything is state-of-the-art. The GTR/GTR Pro is the most efficient and most fitting version for racetracks, for us equipped with too many electronics.
– AMG One : a 3 million euro/dollar UFO visible on a trackday ? Maybe once…
→ https://www.mercedes-benz.com
---
NISSAN
· 350Z and 370 Z (Nismo) : a very good base to start on a racetrack and have fun already.
· GTR : slighly outdated, this model remains an icon for a certain number of fans. Incredible engine and performance, a little too heavy in the original version. "What a car for the price". It has everything a sporty car needs : V6 Biturbo, 4×4, 4 seats, large trunk… Modified models reach 700, 800 or even 1000+ bhp and are therefore in a league of their own.
→ https://fr.nissan.ch/vehicules/neufs/gt-r

---
NOBLE
· M500, M600, CarbonSport, Speedster : very powerful and very rare.
→ https://www.noblecars.com
---
PAGANI
· Zonda, Huayra, Imola, Utopia,… : so expensive that you rarely see them on trackdays. What is it ? A luxury car or a hyper sports car ? Both are true…
→ https://www.pagani.com

---
PORSCHE
· Boxster : the less powerful Porsche is by no means ridiculous on racetracks thanks to its mid-engine concept. Anyway ALL Porsche are built for use on racetracks.
· Cayman : the best is clearly the GT4/RS with a perfect balance and performance.
· 993 : for many Porsche lovers, the 993 (+ its biturbo version) represents the Graal; many of this series is still often driven on trackdays.
· 996 GT2 and GT3/RS : the sunny-side-up version has never been taken into Porsche fan's heard. Very balanced chassis with good performances; this model can still compete with many recent cars.
· 997 GT2/RS and GT3/RS : excellent car with fun guarantee on the road as well as on the track. The Turbo/S and GT2 version have power without end.  The GTS is more than enough to have fun.
· 991 GT2RS and GT3/RS : the current milestone : they are everywhere and almost everywhere in front; the GT2RS is an absolute monster (700 bhp).
· 992 GT3/RS : the latest evo of the 911 : even more powerful, even wider, even more technology, even more electronics. Front axle at the top. The GT3 is already a must. The GT3 RS officially presented on 17.08.2022 is now in production. What a machine ! -> see our NEWS section).
· 918 & Carrera GT : incredible perfection and design. Timeless rarities. Because of their very high value, they unfortunately remain more in a garage than they are seen on racetracks; they were built just for that !
→ https://www.porsche.com

---
RADICAL
· SR1 & SR3 : the entry-level models with an incredible top-of-the-range chassis, an absolute lightweight with adapted engine, the SR3 is already almost a racing car.
· SR8 & SR10 : much more powerful than the SR1 and SR3, they are "radical" cars made for racing drivers, approved for road use. Not adapted for everyday use.
· RXC TURBO : a racing car homologated for the road. Has nothing more to do with the GT world. Is the absolute and unbeatable weapon for trackdays.
· Rapture : the new bomb from Radical, Road Legal, 350 HP for a light weight of 765 kg.
→ https://www.radicalsportscars.com
---
ULTIMA
· GTR, RS, EVO : like the Radical and the KTM, this "car" is at the border of the GT world. Very rarely seen in continental Europe. Popular in GB.
→ https://www.ultimasports.co.uk
---
WIESMANN
· MF3/MF4/MF5 : a little nostalgia ! This beautiful car with BMW power is quite rare on racetracks.
→ https://wiesmann.com
---